Rocklin
Rocklin is not like any other advertising agency or branding consultancy.   We are a family-run business, so it means that we are not passionate about growth but definitely passionate about quality. We work in the international markets — such as Central and Eastern Europe, Middle East and China. In the same time, we at Rocklin want that our clients never lose this great feeling of working with a boutique branding agency that knows how to listen — and only then to advise.   The Rocklin team has a broad experience in communication planning, branding and design. We manage the network of professional independent specialists — creative, production or research — across Europe and Middle East, so we are able to make a true dream team for your project, and we also know how to interact and supervise local teams, which you might want to use for the implementation of our branding strategies and conceptual design.   We at Rocklin strongly believe in value for money. Every penny you spend on branding or advertising solution, is to be backed up with a solid strategic and strong creative concept. In order to ensure it, we make sure that our fees always remain highly competitive. Rocklin's co-founders — with all their experience — are always available to our client.   Write to us a couple of lines and we will be happy to explain you how we achieve it!
Our Specialization
Research
Strategy and positioning
Creative concept development
Art direction
Identity and design
Brand communication and brand experience
Design thinking
Branding for innovation companies and startups
Integrated communication strategies
Brand management and brand portfolio management
BTL, digital and print
Staff professional development
CSR consulting
Alexander Agatov

Co-founder, Head of Strategy

Senior executive, consultant and team leader with more than 20 years of experience in brand building,
strategic planning, research, client service and creative development at international marketing communications
agencies. Builder and leader of project groups of highly experienced, well-reputable and responsible professionals that are eager to compete with traditional advertising and branding agencies on price, quality of strategic, creative and production deliverables, flexibility and schedules. For a number of years Alexander has been working as a leader of strategic planning at BBDO Moscow — one of the largest communication agencies in Eastern Europe. Since 2010 Alexander is an independent marketing consultant, he took part in a variety of branding and advertising projects for leading marketers in the region. Alexander holds a Masters degree in economics and he got his advanced training course in management at the Swedish Institute in Stockholm.

Oleg Babich

Co-founder, Creative & Art Director

Multi-disciplinary designer, art director and creative leader. In 2000 Oleg established his first design studio, which has been successfully operating for more than 8 years. After receiving this great experience in strategic design, creative management, business development and client service, Oleg has been working as a chief designer and art director in several internationally known branding companies and design agencies for a number of years. Since 2011 Oleg Babich works as an independent specialist; he manages creative and visual part in branding and communication projects all around the world, including place branding, visual concepts for global events, and numerous identity and packaging designs. Oleg Babich is proud to be a hereditary designer. His family roots come from early Eastern-European window-decoration artists. Oleg`s father and great-grandfather are architects, and Oleg himself holds a Masters degree in architecture.
Awards
Brand of the Year/Effie Awards Golden Drumstick Award of Golden Drum ad festival 7+ Award of Leo Burnett's Global Product Committee Moscow International Advertising Festival Finalist of London Int'l Advertising Festival Montreaux International Advertising Festival Finalist of Clio Awards EPICA Awards Silver Mercury Idea, Advertising Festival Identity — Best of the Best Pentawards, Silver  
Press
Creative Review, Brand Magazine, Graphis, Index, Identity Magazine, Identity Designed, The Dieline, Package Design Mag, Packaging of the World, What the Pack, Samlil, AdIndex, and many others.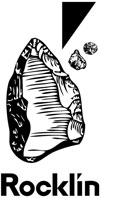 Rocklin is about shaping the keystone of your brand. A tool that helps you to turn something amorphic into something precious.